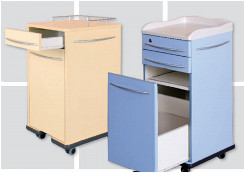 LINET Bedside Cabinets & Overbed Table
The ranges of Combinea & Combinea Plus bedside cabinets are highly diverse, offering 8 different models each. Such a selection will meet demands of the whole spectrum of customers.
Eleganza MANO is a self-service bedside cabinet for patients with reduced mobility.
The unique construction of the Eleganza Mano patient bedside cabinet has been designed with patient independence, infection control and ease of handling in mind.
The economic Solido overbed table is designed for modern healthcare environments. The top is made of laminate with a durable metal base. Chose between a fixed eating board or tilt able eating board.
User friendly and easy to handle
A lockable drawer and accessible shelf - for patients storage of valuable
One or Two top drawers with removable plastic organizers which facilitate cleaning
A wide variety of uni-colours and wooden decors
Round edges safe for the Patient and surrounding equipment
Ease of Handling - Ergonomically designed top and bottom drawers can be accessed from both sides
Infection Control - Smooth and non-absorbent surfaces ensure easy access for cleaning
Easy manipulation - Height and tilt angle of eating board can be easily adjusted